We do more than just harvest timber. We take care of the whole process, so you can focus on other important business tasks.
We select and sort the timber according to your business needs. With our vast product range, we are certain we will find a great solution for you.
After the sorting of your timber, we carefully and safely store it, in our storage facilities, which ensure that the wood maintains it's great quality.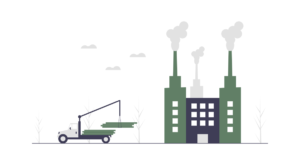 We take care of your wood handling, from the log yards, to the ports of your selection. Ensuring a safe and convenient delivery process.
Product handling between the facilities
Along the whole purchase & handling process, we take care of all of the documentation, certificates, customs, insurance. Phytosanitary, fumigation and etc.